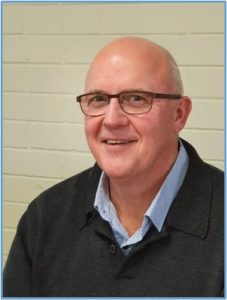 CHRIS ARRELL
Senior Hospitality & Foodservice Management Advisory Services,
Operational & Design Consultant
E: chris@hospitalityfoodservice.com.au
Mob: +61 449 873 239
Chris Arrell, the founder of Hospitality & Foodservice Consultants, Hospitality Total Services in Australia & New Zealand, has collectively over 40 year's experience in the foodservice, hospitality, tourism, food & beverage, kitchen, retail, healthcare, clubs, entertainment, accommodation, and government facilities sectors providing operational, management advisory and design consultation.
Chris was an apprentice chef, chef, bar manager, hotel general manager, and hospitality operations manager in both Australia and New Zealand over the first years then as a hospitality and foodservice operational, management and design consultant during the last 29 years Chris has been providing independent advice within his own consulting companies.
Chris's advice and experience span are across all the services that Hospitality & Foodservice Consultants offers.
The below is a snapshot of Chris's skills:
Consultation
Chris started consulting in 1992 and has worked on over 300 client consultation briefs, including multiple projects requiring management advisory, operational advice & design.
Just to name a few Chris has provided
hospitality and foodservice management advice,
operational reviews and audits,
kitchen and bar design,
laundry reviews and design,
sustainable design,
retail advice including retail mix,
liquor licensing advice and application,
tourism strategies
advice and recommendation on master-plans for hospitality precincts,
marketing & feasibility analysis,
growth strategies,
business plans,
redevelopment consultancies
Management Advice and Consultation
This advice includes but not limited to:
Standard Operating Procedures
Market Strategies
Feasibility analysis & reports
Business plans
Statement of requirements
Market analysis
Probable cashflows
Peer reviews design & operations
Key Performance Indicators
Feasibility Snapshot reports
Room & kitchen strategies
Equipment condition reports
Human resources structures & hierarchy
Management plans
Warewashing strategies
Expression of Interest campaigns
Cost-benefit analysis & recurrent cost analysis
Budgets
Spend analysis
Public interest assessments
Pre-purchase due diligence reports
Food Safety reviews
Point of sale & inventory management system review & recommendations
Catering contract negotiations
Benchmarking
SWOT analysis
Legislative review
Supplier negotiations
Project Management & Administration
Food & Beverage Mentoring
Operational Advice and Consultation
This advice includes but not limited to:
Operational Reviews back and front of house
Profit & Loss reviews including Cost of Goods Sold & Payroll Costs
Laundry Solutions
Cost-Benefit Analysis
Online and offline presence
Food Delivery Solutions
Waste Considerations & Solutions
Revenue Metrics
Stocktaking
Menu engineering development
Customer Exit Surveys
Design Advice and Consultation
Chris has provided hospitality & foodservice design from a small kiosk to multi kitchen or multi-outlet developments. Back of house design is completed by Hospitality & Foodservice Consultants, including accommodation rooms, kitchens, bars, laundry, storage, waste & service areas, and advice on front of house as required. Chris works in-house with his foodservice designer team and externally with clients, architects, interior designers, builders, engineers, and project managers to complete projects, from a hospitality, foodservice, catering, food & beverage perspective.
This advice includes but not limited to:
Spatial planning Schematic
Concept Design
Design Development
Equipment Specifications
Equipment Selections
Project Budgets
Tender Documentation & Evaluation
Specifications
Project Administration
Defects Review
Operational Flow
Spatial Planning
Site Inspection
Reused Equipment Review
Kitchen Certification
Compliance with AS467 design construction and fit-out of food premises
Compliance with Standard 3.2.3 food premises and equipment
Compliance with AS1668.2.2012 the use of ventilation
Management Skills
Strong problem-solving attributes through sound knowledge and lateral thinking capabilities
Proven leadership in management, with a hands-on approach
Great communicator
Cultivating relationships
Clear decision making
Ability to prioritise tasks
Strong customer focus
Strong financial acumen
Team building
Staff development
Influencer
Day to day management of multiple sites, or multisite operations
Strong negotiation
Strong ability to develop strategic client relationships
Strong strategic planning capabilities
Strong track record of developing successful business relations with key stakeholders
Strong public speaking skillset
Strong attention to detail
Ability to adapt quickly in situations
Strong interpersonal skills
An innovative approach to management by identifying opportunities
Committed to self-development, being on-trend, and ahead of the pack
Researching and learning how to be better and putting this new knowledge into practice
Strong listener
Key skills within Hospitality, Tourism & Foodservice
Financial Acumen
A clear understanding of balance sheet and profit and loss reporting:

Revenue
Operating costs: payroll, cost of goods sold
Other revenue
Expenditure
Fixed costs

Development of and implementing cashflows and business plans
A proven track record in growing revenues and bottom-line profitability
Strong financial acumen and the ability to complete financial feasibility reports including cashflow forecasts
Producing forecast revenues, and later conducting the review against actual revenue
Strong budgeting capabilities with the ability to implement the same, departmentally, overall site, or multisite
Operational and Key Performance Indicator's (KPI's)
Developing and implementing service standards and statement of requirements
Development of and implementing standard operating procedures
Developing and implementing marketing plans
Development of and monitoring/auditing service standards, including Key Performance Indicators through measuring the same
Conducting, measuring, and reporting on surveys
Developing maintenance and preventative maintenance strategies
Strong operational & functional understanding of back of house and front of house operations
Reviewing and measuring leased operations
Reporting
Strong capability of developing daily and weekly reporting requirements for operational, financial, and property reporting
Management
Fully conversant with the management, operational and financial components of the food, beverage, entertainment, retail, and accommodation industries
Strong management of multiple or multisite operations
Management of leases, contracts, consultants, and operators
Management of front of house operations – including accommodation, bars, cafés, retail, functions, nightclub, dining, alfresco, takeaway, entertainment, and restaurants
Management of back of house operations – including kitchens, stores, laundry, housekeeping, maintenance, office, and administration
Management of quality customer service
Inventory management including stocktaking and ordering, stock control, and stock rotation
Menu development and recipe implementation for food and beverage
Cash management
Opening & closing
HR including staff training, job descriptions, duty statements, staff management & direction, staff interviews & shortlisting, conflict resolution, staff rostering & staff roster budget development, and implementation
Constantly considering trends in the marketplace and implementing the research findings were able to
Strong knowledge of hospitality, foodservice, healthcare, retail, entertainment, and tourism industries
Site management
Developments & Redevelopments
Strong understanding of solid design requirements through completing many varied successful project fit-outs, developments, and redevelopments
Strong experience in completing refurbishment, developments, and pre-openings
Statutory Regulation
Strong knowledge and understanding of the statutory requirements associated with the accommodation, hospitality, entertainment, retail, healthcare, leasing, tourism, and foodservice industries
Strong knowledge of food safety and HACCP
Strong knowledge of AS4674 design, construction, and fit-out of food premises
Strong knowledge of food standards Australia New Zealand 3.2.1, 3.2.2 and 3.2.3
Strong knowledge and understanding of laundry standards
Knowledge and understanding of AS1668.2 2012 Ventilation within kitchens
Strong understanding of food & Liquor acts in Australia